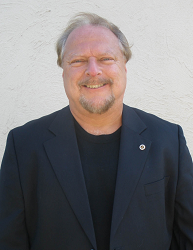 Member name: Christopher J. Devine, Ph.D.
LinkedIn Profile Address:  www.linkedin.com/pub/dr-christopher-j-devine/5/6b2/462/
Member State/Country of residence: California, USA
NCU degree (achieved or in process): Doctor of Philosophy in Business Administration
Why did you choose NCU? I needed a reputable program that afforded me flexibility because of a hectic travel schedule. I live in California but I worked out of an office in Marlborough, MA.
When did you join Delta Mu Delta: I joined DMD during their inaugural year in 2007.
What motivated you to join Delta Mu Delta? I felt honored to be selected for such a prestigious organization and saw great value in promoting excellence in educational programs supporting business.
What has been the biggest benefit to you through your membership? I think the biggest benefit is the professional contacts made with other DMD members.
Have you ever held an active role with Delta Mu Delta? If so, was it at the NCU Lambda Eta Chapter level or international level? I was selected as the first chapter secretary for Lambda Eta in 2007.
If you were talking to someone who was thinking about joining Delta Mu Delta, what would you tell them? Membership is well-worth the value and prestige. DMD promotes educational excellence for business majors and programs. Being able to cite membership to DMD on one's resume reflects well on a person's character and their scholarly performance while in school.
If you would like, please share a little bio about yourself: your career, hobbies, whatever you would like to share.
A well-known and respected medical device industry quality and regulatory expert, Dr. Christopher Joseph Devine is the president and founder of Devine Guidance International, Inc., (DGII) a consulting firm providing regulatory and quality compliance support for the medical device industry. Prior to launching DGII, Dr. Devine spent 14-years with Boston Scientific Corporation working in a variety of quality and regulatory management roles. Additionally, Dr. Devine is the author of Devine Guidance, a weekly blog focusing on quality and regulatory compliance issues facing the medical device industry; and published by the Medical Device Summit, an e-magazine. Furthermore, Dr. Devine has 34-years of combined experience in the fields of quality assurance and regulatory affairs; and is a senior member of the American Society of Quality (ASQ), a member of Regulatory Affairs Professionals Society (RAPS), a member of the Society of Manufacturing Engineers (SME), and a member of the Project Management Institute (PMI). Dr. Devine received his doctorate from Northcentral University, with his doctoral dissertation entitled, "Exploring the Effectiveness of Defensive-Receiving Inspection for Medical Device Manufacturers: A Mixed-Method Study. Finally, Dr. Devine is the author of three books on quality and regulatory compliance; "Devine Guidance for Complying with the FDA's Quality System Regulation" "Devine Guidance for Complying with the European Medical Device Directive; and "Devine Guidance for Complying with the European In-Vitro Diagnostic Directive." Prior to his commercial career, Dr. Devine served honorably as a member of the United States Marine Corps.